Automatic Electric Motor Driving Chain Belt Conveyor
Views:2 Author:Site Editor Publish Time: 2020-06-23 Origin:Site
Automatic Electric Motor Driving Chain Belt Conveyor
1, Quality and service standard
ISO9001; 2000 Quality standard,

2, Functions for BRT-PCV/COV Splitting-machine conveyor
Splitting-machines are specialized for cutting the natural block stone and concrete, within a few seconds. The Splitting-machine of different sizes cut the stone into desired specification, and then, along with BRT Splitting-machine conveyor, a manufacturing line is set up.
Our products are for building and decoration material processing, such as cube stone, paving-Stone, kerb stone and wall stone.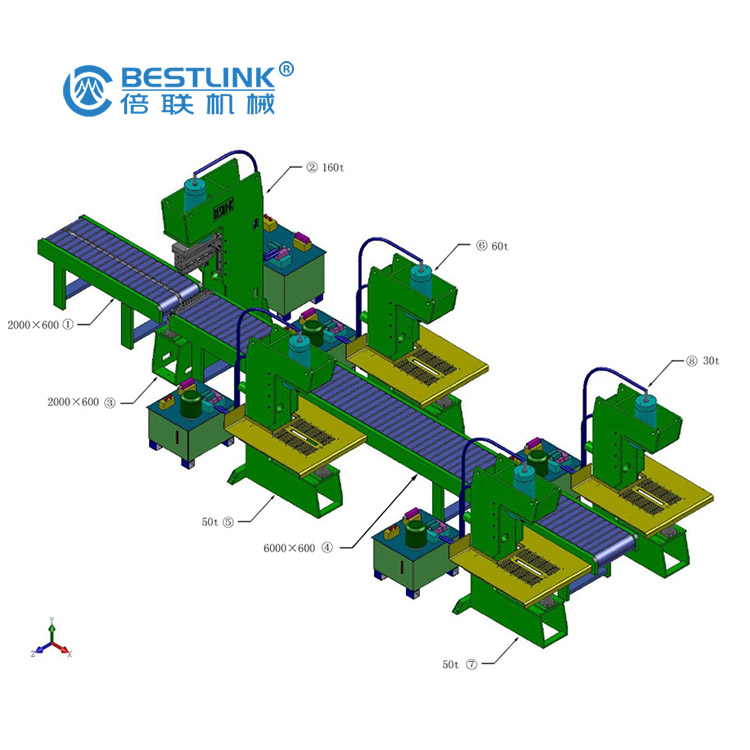 3. The components of BRT Splitting-machine & conveyor
BRT Splitting-machine & conveyor consist of the ten parts of one BRT320-1200X800-RB36*20-ZDX, oneBRT160T500*550-RB30*15, two BRT70T-400X350-RB20*10, four BRT40T-240X320- RB15*10, etc.

Each of BRT splitting machine including: Machine body, upper blade, lower blade, board, the track, operating platform, hydraulic system, the electric controller unite, etc...

Note: The hydraulic elements are the excellent and reliable product of Germany "Rexroth" the electric appliance are "Schneider" and" Omron", which are two famous brand in the world.


4. Main technological data for the BRT splitting machine
See other product introductions and details on oue website.

Note: The conveyor roller consist of cementation steel Q235A, we will pack it separate for long distance transportation.
| | | | | | | | | | |
| --- | --- | --- | --- | --- | --- | --- | --- | --- | --- |
| Model | PCV1 | PCV2 | PCV3 | PCV4 | PCV5 | PCV6 | PCV7 | PCV8 | PCV9 |
| Belt length (mm) | 2000 | 2000 | 3000 | 2000 | 3000 | 1500 | 1500 | 3500 | 3000 |
| Belt width (mm) | 800 | 1000 | 1000 | 800 | 1000 | 600 | 800 | 1500 | 1000 |
| Motor drive (pc) | 1 | 1 | 1 | 2 | 2 | | | 2 | 1 |
| Litting cyinder(a) (pc) | | | | | | | | 1 | |
| Pivoting cylinder© (pc) | 1 | 1 | 1 | 1 | 1 | 1 | 1 | 1 | 2 |
| Power supply (kw) | 2 | 1 | 2 | 1+1 | 2+2 | | | 2+2 | 3 |
| Height (mm) | 950 | 950 | 950 | 950 | 950 | 950 | 950 | 1100 | 1100 |
| Total width (mm) | 1150 | 1300 | 1500 | 1200 | 1500 | 700 | 1150 | 2100 | 1500 |
| Conveyor weight (kg) | 1500 | 2000 | 2500 | 1500 | 3500 | 350 | 500 | 4500 | 3500 |