6 inch down the hole drill dth hammer bits
Views:0 Author:Site Editor Publish Time: 2020-06-02 Origin:Site
6 inch down the hole drill dth hammer bits
Down The Hole Bit, usually called DTH bit, is used with DTH hammers for drilling holes through a wide range of rocks types.
In conjunction with DTH hammers, DTH bits are designed with a splined drive for rotating the bit in the ground.
Drill bits are available in different sizes and different styles so they can drill a wide range of hole sizes.
Our variety of DTH bits are manufactured using high quality materials to provide you with a fine balance between penetration capability and bit life.
We offer a comprehensive range of standard and made to order drill bits on an extensive selection of shanks with a wide variety of head designs to suit every project.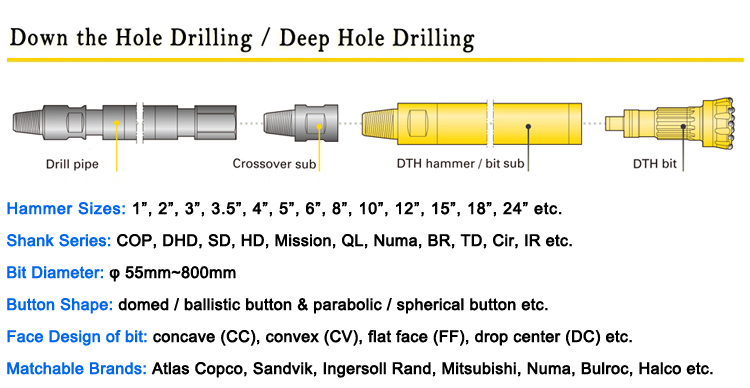 Drill Bit

Bit Dia.(mm)

NO.Air
Holes

Gauge
Buttons

Front
Buttons

Weight(Kg)

HD65(DHD360,Cop64)

152

2

8×φ16

8×φ16

22.0

165

2

8×φ18

8×φ16

24.0

178

2

8×φ18

8×φ16

26.0

190

3

9×φ18

9×φ16

28.0

203

2

10×φ18

10×φ16

29.5

SD6

152

2

8×φ16

8×φ16

26.0

165

2

8×φ18

8×φ16

27.0

178

2

8×φ18

8×φ16

29.0

190

3

9×φ18

9×φ16

32.0

203

2

10×φ18

10×φ16

34.0

QL60

152

2

8×φ16

8×φ16

24.0

165

2

8×φ18

8×φ16

25.0

178

2

8×φ18

8×φ16

27.0

190

3

9×φ18

9×φ16

29.0

203

2

10×φ18

10×φ16

33.0

Mission60

152

2

8×φ16

8×φ16

22.0

165

2

8×φ18

8×φ16

23.0

178

2

8×φ18

8×φ16

24.0

190

3

9×φ18

9×φ16

25.0

203

2

10×φ18

10×φ16

28.0