Electric Button Bits Sharpening Machine
Views:0 Author:Site Editor Publish Time: 2020-08-25 Origin:Site
Electric button bits sharpening machine
Air pressure, max

5-7 bar (100psi)

Air consumption

2m3/min (50ft3/min)

Rate power

1.5kw

Idling speed

20,000 rpm

Water flushing
presuure, max

4 bar (60psi)

Hose diameter, air

19 mm(1/2″)

Hose diameter, water

4mm

Weight, exclude hoses

3.2 kg

Sound level

80 dB

Grinding button size

Φ6-25 mm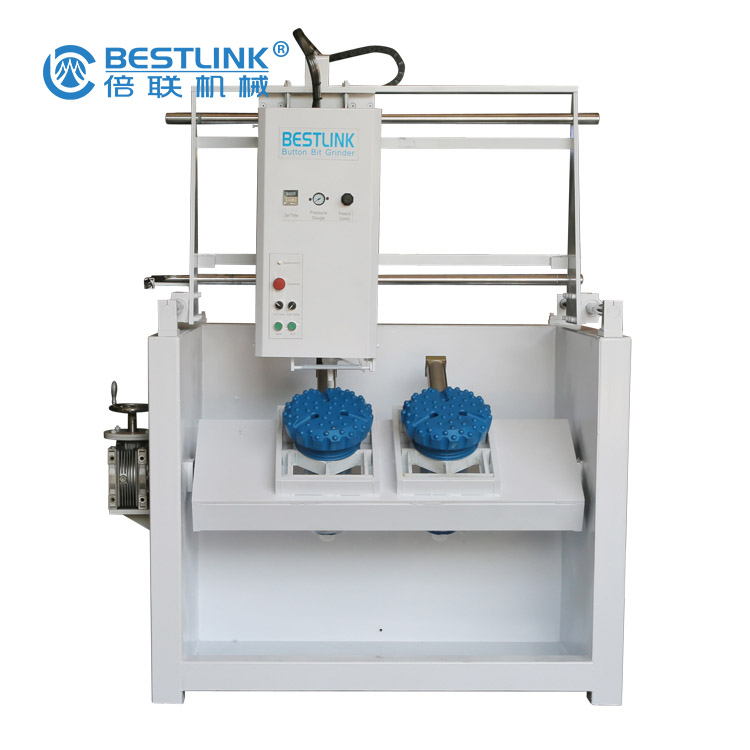 Electric button bits grinder EGM20
| | |
| --- | --- |
| Working air pressure | 5-7 bar (100 psi) |
| Air consumption | 1.2-1.8 m3 / min (40-65ft3/min) |
| Max. Water pressure | 4 bar (60 psi) |
| Water consumption | 2-4 L/min * |
| Rated power (motor) | 1.5 KW |
| Coolant/flushing medium | Water |
| Air connection, air hose | 19 mm |
| Water connection, water hose | 6mm |
| Dimensions: H*W*D | 900x630x1500mm |
| Weight | 200kg |
| Electric power data | 1phase 220V,50 Hz or 3 phases, 380V,50 Hz** |

* With cooling tank unit:0.2-0.3L/min.
** Customized is available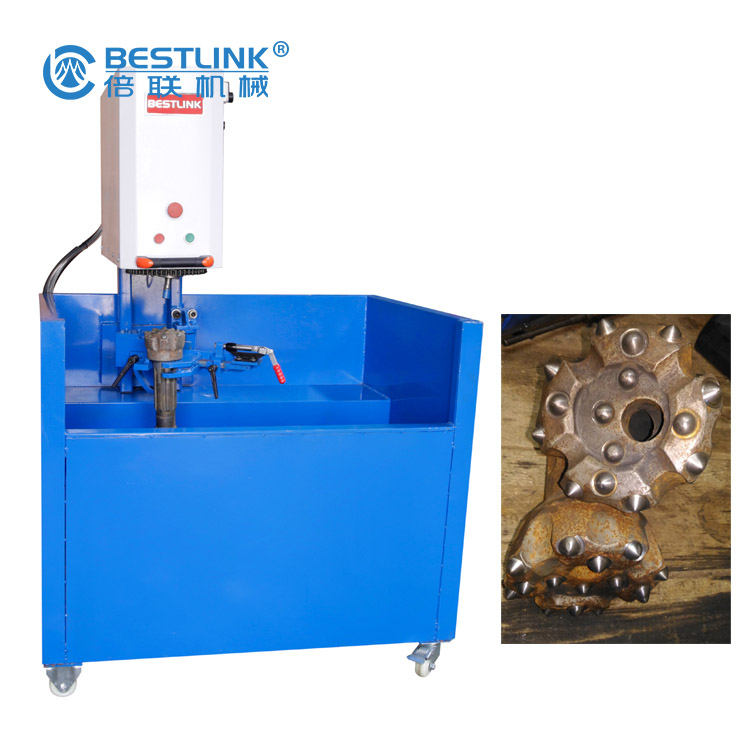 Pneumatic robot arm button bits grinder AGM18
| | |
| --- | --- |
| Rotation speed | 20000 rpm |
| Motor power | 1.5 KW |
| Working air pressure | 5-7 bar (100 psi) |
| Air consumption | 2.2 m3 / min (80ft3/min) |
| Max. water pressure | 4 bar (60 psi) |
| Air hose diameter | 19 mm |
| Water hose diameter | 6 mm |
| Weight excl. packaging | 330.0 Kg |
| Weight incl. packaging | 350.0 Kg |
| Transport dimensions | 1600*700*1500mm |
| Sound level | 92 dB(A) |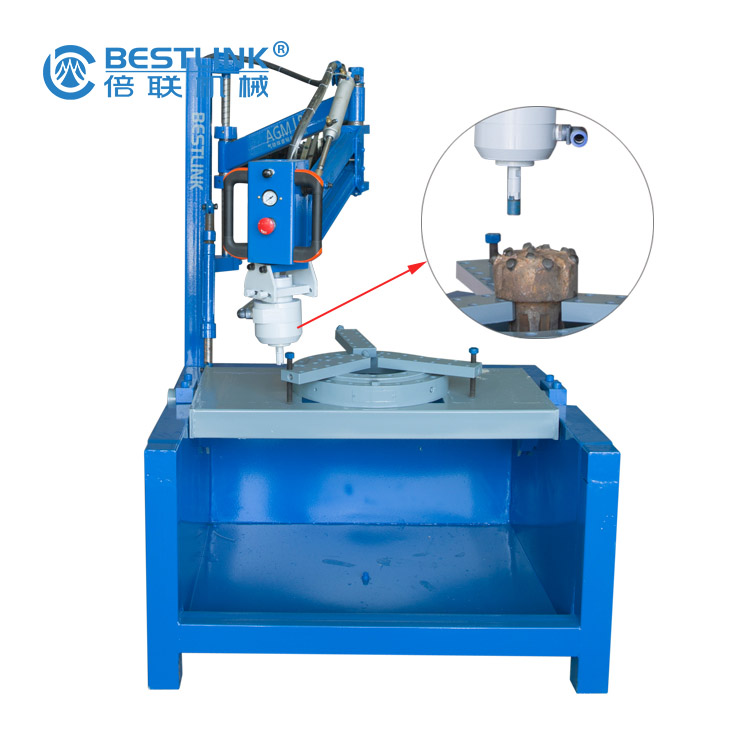 BESTLINK---Manufacturer of Button Bit Grinding System in China

(1) Grinder (Button Bit Grinding Machine)

The EGM20 Button Bit Grinder is a high powered tool for worn button bit sharpening. Simplicity in design combined with the latest manufacturing techniques gives the operator a powerful tool for the most demanding job.

EGN20 semi-automatic grinding machines have quickly established themselves as dependable and versatile machines, credited by the professionals and CE approved.

There are more models like BTON200, BTON500, AGM18, etc...are pneumatic models, called air grinder.
Our Air Grinders require a clean and dry air supply of a minimum 80 psi and 29 cfm passing through an in-line oiler to supply lubrication to the grinder. Also, a supply of water from a mains supply or a sump is required to act as a coolant during the grinding process.

A full spares back-up service is also available.


(2) Grinding Pin, Grinding Cup and Grinding Wheel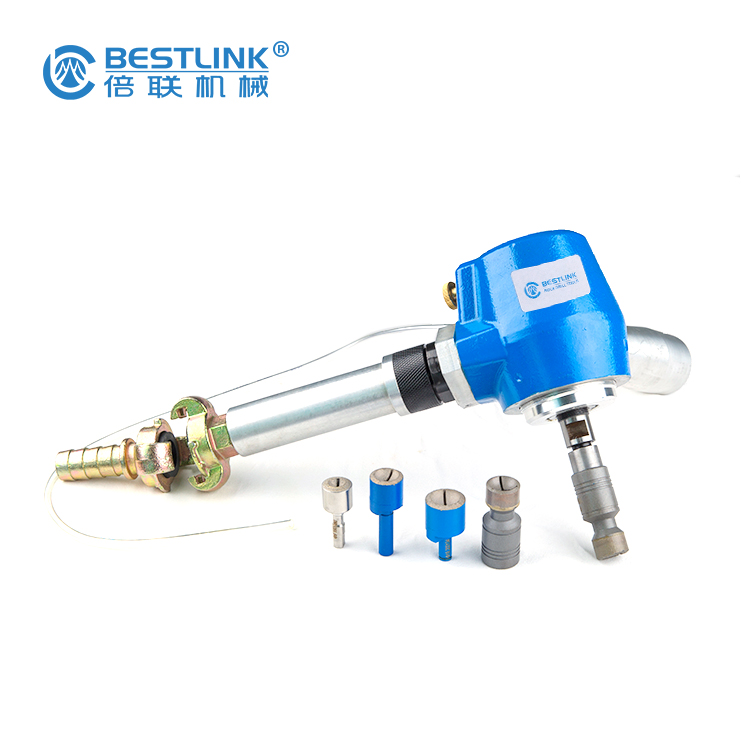 BESTLINK supplies you 4 kinds of grinding cup for your various needs.
The Diamond grinding cup is a perfect tool for grinding your broken button bits, to prolong its lifespan.

We have different model: 8mm shank model, 9mm shank model, internal hex drive model and 55-drive model. Our grinding cup can be used for grinding 6mm-25mm button size. Other sizes are available on request.

Benefits for using BESTLINK GRINDING SYSTEM:

1). Low weight-----makes it's easy operation.
2). Low air consumption-----allows grinding at lower compressed air. Fuel saving.
3). Quick chuck-----easy to changing grinding cups without special tools.
4). Cooling system-----a recycling cooling system makes a safe and sustaining working.