2021 Mining Engineering and Quarrying Bore Hole Tungsten Carbide Threaded Drill Button Bit
Views:0 Author:Site Editor Publish Time: 2021-03-16 Origin:Site
2021 Mining Engineering and Quarrying Bore Hole Tungsten Carbide Threaded Drill Button Bit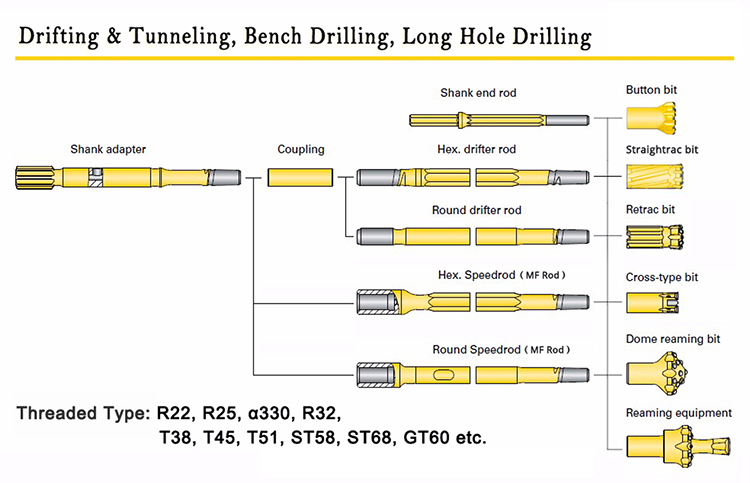 Features:
Thread connection: R25, R28, R32, R38, T38, T45, T51, ST58, GT60 and ST68.

Carbide profile: Spherical, ballistic and parabolic.

Bit Faces: flat, concave, convex and drop-center, uniface.

Bits Diameters: 33mm-152mm

Bit body: standard and retrac
Our offering covers all construction, quarrying and mining drill &blast applications from soft to hardest rock conditions. Please find the most suitable product for your needs on our on-line catalogue!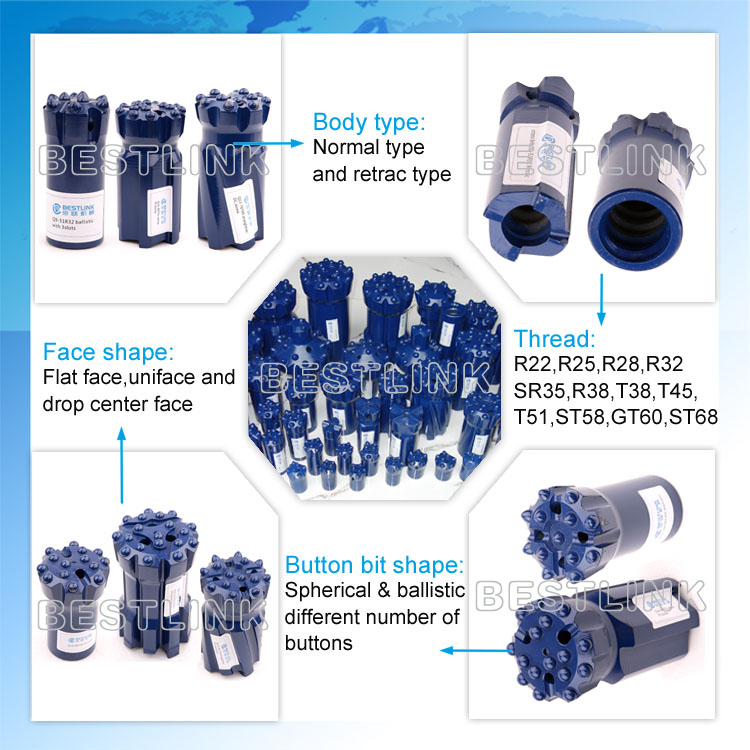 » Drifting and tunneling drilling equipment
» Reaming equipment
» Bench and production drilling
» Taper drilling tools
» Integral drilling tools
» Coal mining bits
» Shoulder drive drilling tools
» Rock drill machine
» Button bit grinder
» Grinding cups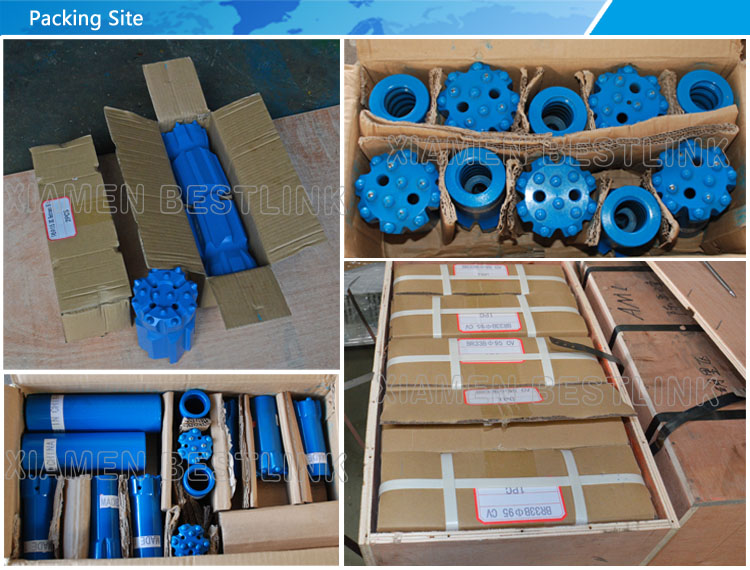 Thread Button Bit

Diameter

Carbide size(mm)

Flushing hole

Weight

mm

in

Front

Gauge

Front

Side

(kg)

Qty×size

Qty×size

R25 (1")

33

1 19/64

2×7

5×7

1

1

0.36

35

1 3/8

2×7

5×8

1

1

0.44

38

1 1/2

2×7

5×9

1

1

0.56

41

1 5/8

2×8

5×9

1

2

0.61

45

1 3/4

2×8

5×10

1

2

0.78

48

1 7/8

2×9

5×11

1

2

0.8

51

2

2×10

5×11

1

2

1.18

57

2 1/4

2×10

5×12

1

2

1.26

R28 (1 1/8")

35

1 3/8

2×7

5×8

1

1

0.44

38

1 1/2

2×7

5×9

1

1

0.56

41

1 5/8

2×8

5×9

1

2

0.61

45

1 3/4

2×8

5×10

1

2

0.78

48

1 7/8

2×9

5×11

1

2

0.8

51

2

2×10

5×11

1

2

1.18

57

2 1/4

2×10

5×12

1

2

1.26

R32 (1 1/4")

41

2 5/8

2×8

5×9

1

2

0.65

43

1 11/16

2×8

5×10

1

2

0.72

45

1 3/4

2×9

5×10

1

2

0.82

48

1 7/8

2×10

5×10

1

2

0.92

51

2

2×10

5×11

1

2

1.24

57

2 1/2

2×10

5×12

1

2

1.35

R/T38 (1 1/2")

64

2 1/2

3×11

6×12

2

1

1.62

70

2 3/4

4×10

8×10

2

1

1.98

76

3

4×11

8×12

2

1

2.28

89

3 1/2

6×11

8×12

2

2

3.32

T45 (1 3/4")

70

2 3/4

4×10

8×10

2

1

2.24

76

3

4×11

8×12

2

1

2.46

89

3 1/2

6×12

8×14

2

2

3.52

102

4

7×12

8×14

2

2

4.46

115

4 1/2

8×12

8×14

2

2

6.68

T51 (2")

76

3

4×12

8×12

2

1

3.62

89

3 1/2

6×12

8×14

2

2

4.48

102

4

7×12

8×14

4

1

5.26

115

4 1/2

8×12

8×14

4

1

7.62

127

5

9×12

8×16

4

1

8.58

ST58 (2 1/4")

89

3 1/2

6×12

8×14

2

2

5.46

102

4

6×12

8×14

2

2

6.18

GT60 (2 3/8")

102

4

6×13

8×14

4

-

7.4

115

4 1/2

7×14

9×16

3

-

9

ST68 (2 3/4")

102

4

6×14

8×16

2

2

8.6

115

4 1/2

6×14

9×16

3

-

11.2